VGRID's Model 100 BIOSERVER is a biomass gasification system which is paired with a micro-generator to produce low-cost Renewable Electricity and Biochar. The VGRID M100 BIOSERVER runs on various types of biomass & agricultural waste such as nutshells, wood pellets, chipped trees etc… to generate electricity and also co-produce either agricultural grade biochar to be use as soil amendment or animal feed grade biochar to be used in animal livestock feed applications. The biochar soil amendment improves soil health and increases plant growth while the biochar animal feed supplement helps in better feed intake, increased growth and better feed efficiency
V-Grid is making these Bioenergy Servers available to farmers as a turn-key co-op solution or as an own & operate solution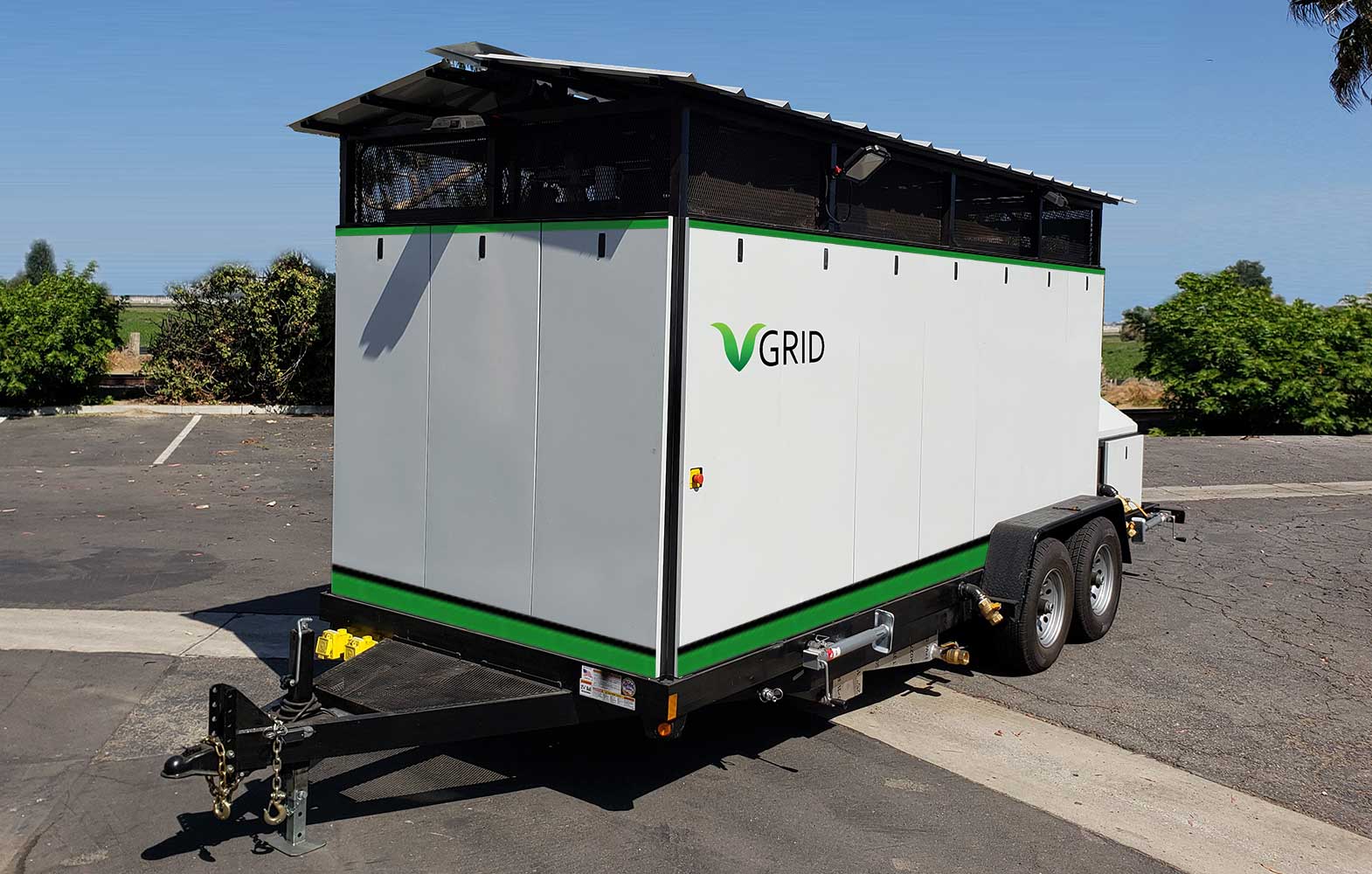 VGRID M100 BIOSERVER SPECIFICATIONS
The V-Grid Bioserver can process most small form factor dense organic material. Some examples of that are provided below. In general, most biomass materials are chipped or pelletized to form the necessary size required to process throuigh the bioserver.
Pistachio, walnut, macadamia nut and almond shells
Pellets made from most organics – grasses, manure, etc.
Wood chipped to general size of 3/8" to ¾"1
Wood pellets
Our modular design allows for flexibility and numerious deployment options for both small and large scale needs.
Single Mobile Remote Applications
Our bioservers are designed to be mobile or stationary. Each bioserver consists of a gasifier and a generator pairing, that can be deployed to remote sites. This gives you cheap, clean and on-demand distributed electricity.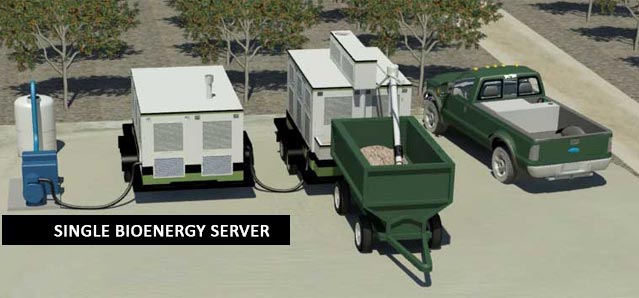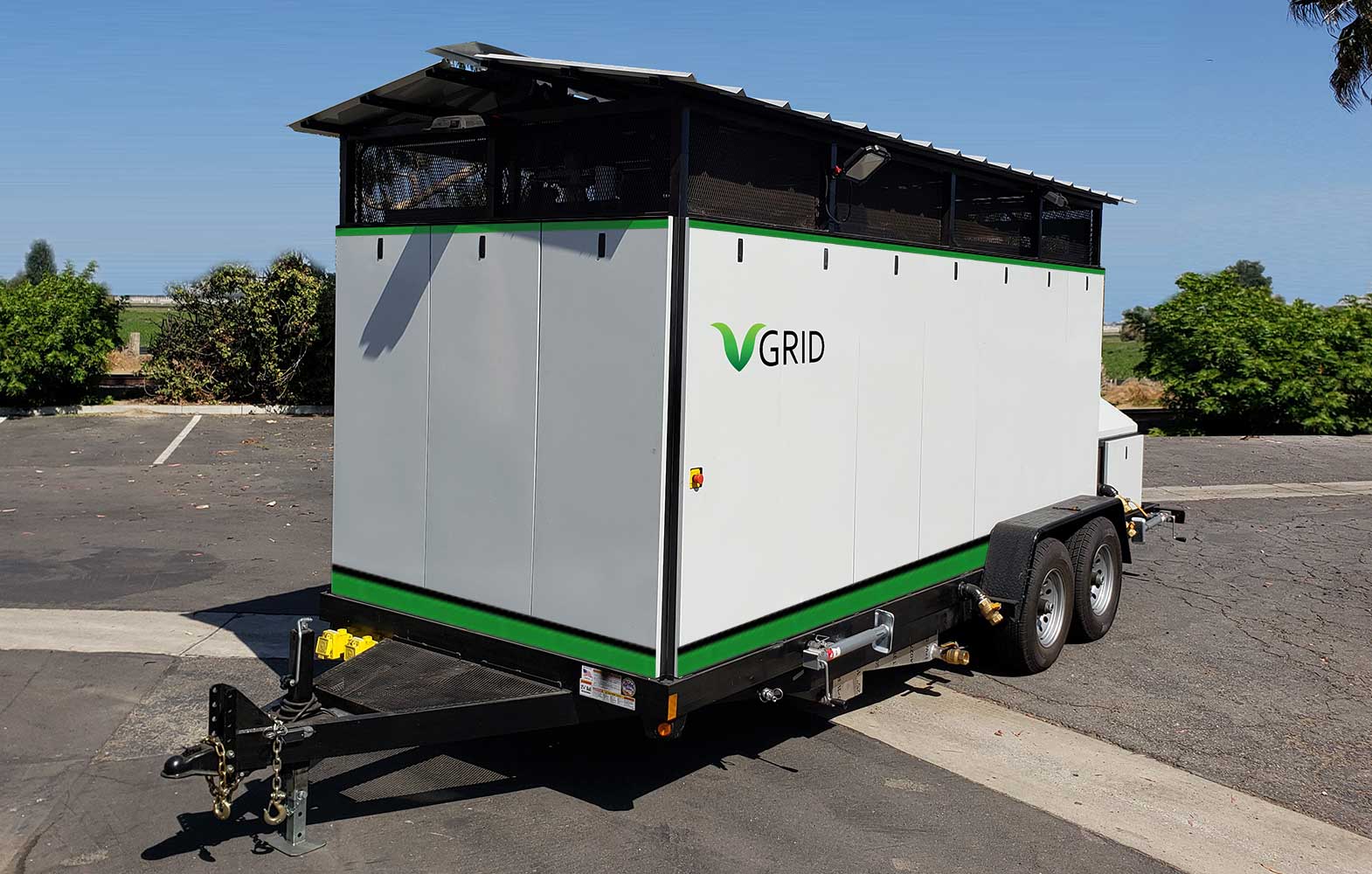 For Large Scale Operations
VGRID bioserver can be linked together into an array creating a bioserver farm to produce 24/7 on-demand power for large scale operations. As shown below a 5 bioserver farm array will produce up to 500kW of cheap clean electricity.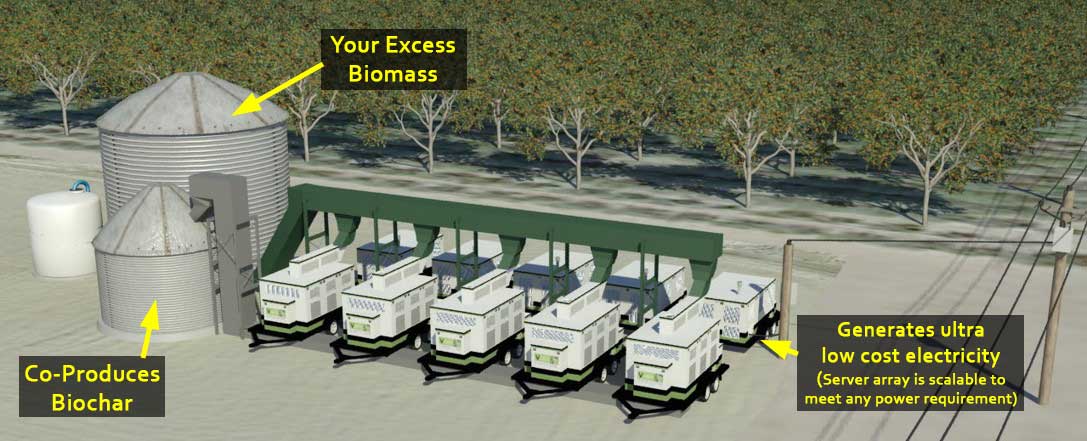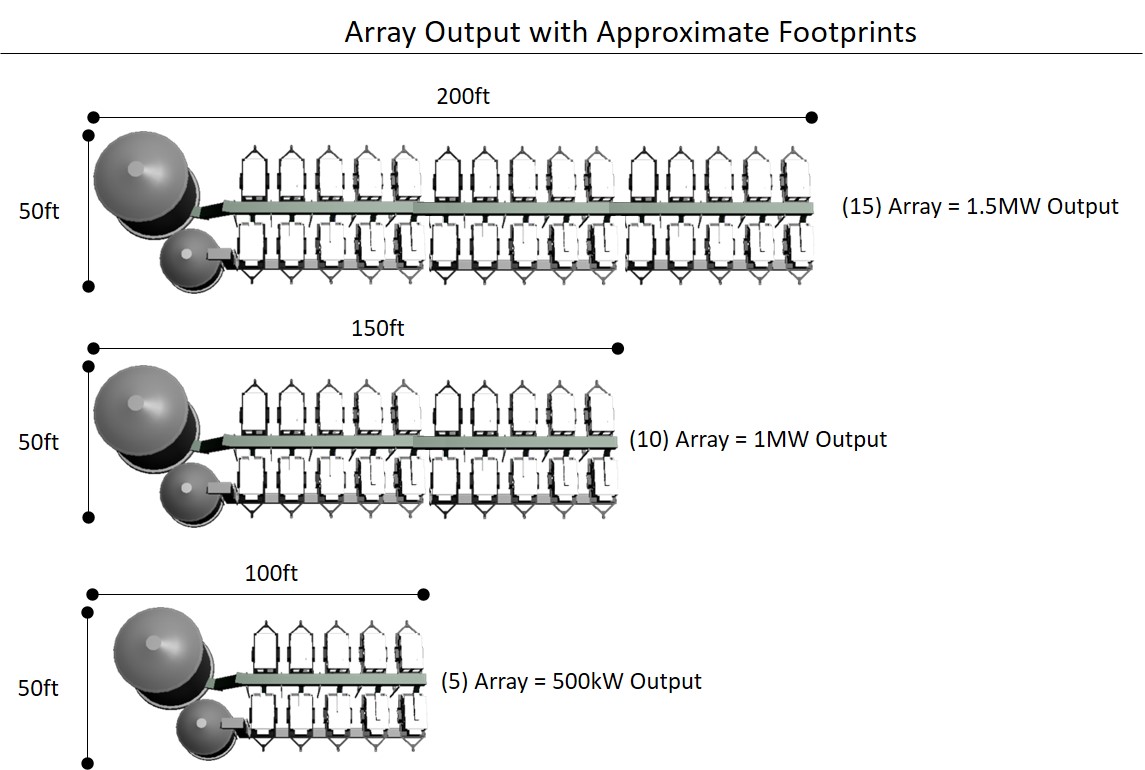 INPUT & OUTPUT AUTOMATION
Input Automation:
Silo type storage of input feedstock
A sifter mechanism for removing fines for the flow before entering gasifier
Automated distribution of the feed stock by conveyor to multiple gasifier units from a single storage system, PLC controlled via gasifier sensing and demand profile
Output Automation:
Separation and removal of the heavy tar and light condensate material for storage in holding tanks (variable – totes, bladder, drums, etc.)
Automated removal and cooling of the biochar via auger for direct bagging without combustion
ARE YOU INTERESTED IN A VGRID BIOSERVER?
Send us your contact information and one of our customer support representatives will contact you to discuss available options.
If you do not get an email response, please check your spam folder(s)
or contact us directly at info@vgridenergy.com