POULTRY BIOCHAR
BEDDING APPLICATIONS
Poultry Biochar Bedding Applications
Summary Biochar benefits in Poultry bedding
> 60% reduction in ammonia emissions
Biochar can hold up to 5x its weight in water. This results in improved moisture management, so bedding always appears dry and spongy
2x improvement in replacement time due to increased ammonia and water absorption
Improved respiratory health of the flock by reducing ammonia emissions
100% organic
100% safe. Biochar can also be fed to poultry for benefits
Reduces moisture in bedding to help prevent footpad dermatis
Reduced insect & bugs (like diatomaceous earth)
Enhanced safety and sanitation of the bedding as biochar can absorb any liquid droppings
Easy clean-up
Increased carbon and nitrogen for use as compost manure & fertilizer
35% Increased soil microbial activity & nitrifying bacteria using biochar poultry litter4
Low thermal conductivity of biochar allowing for good insulation and warmth
Biochar in Poultry bedding:
Biochar typically offers the same benefit as zeolites and is 100% organic. Gorliczay et al., compared biochar and zeolites in poultry bedding and concluded that the effect of biochar and zeolite is very similar in ammonia emissions control from poultry coops2.
 Biochar has high water holding capacity allowing for excellent moisture control. Linhoss et al., studied the impact of biochar+pine shavings on poultry litter and concluded that an addition of 10% biochar increased the water holding capacity of the bedding by 30%3.  This is important because, elevated moisture (>30%) in the bedding typically leads to higher incidences of footpad diseases and increased ammonia generation.  Biochar can also adsorb very efficiently both organic molecules such as amino acids, methane, sulfates, organic nitrates, fatty acids, proteins and urea and mineral compounds such as ammonium, ammonia, and nitrate.
Biochar also has very low thermal conductivity. This means that the bed temperature is not susceptible to significant temperature changes as biochar can act as a buffer, providing warmth and insulation to the animals inside.
The nitrogen adsorption and the continuous drying of the litter deprive the microbial pathogens of their nutrient base and reduce toxic emissions of ammonia. After just a few days, a significant reduction in coop odor can already be noticed.
With the lowering of the moisture content and ammonia contamination the risk of footpad diseases decreases. Existing infections begin to heal. Animals' resistance increases, with a positive effect on their vitality, egg production and final body weight.
Biochar's high adsorption capacity makes it possible to reduce the use of lime in the litter, thereby reducing the pH of the litter and manure, which in turn reduces ammonia emissions.
Typical Applications
Mix up to 10% by volume with your regular poultry bedding and spread. Moisten the biochar a bit by sprinkling water on it for better mixing.
Add/spray biochar at 10% by volume on any existing poultry bedding.
If using pellets, premix biochar up to 10% with the mixture you are pelletizing and use the biochar mixed pellets as poultry bedding.
Majority of the literature suggests a minimum of 5% biochar is needed and up to 10% saturates the bed with biochar, depending on the type of material used in the poultry bedding.
References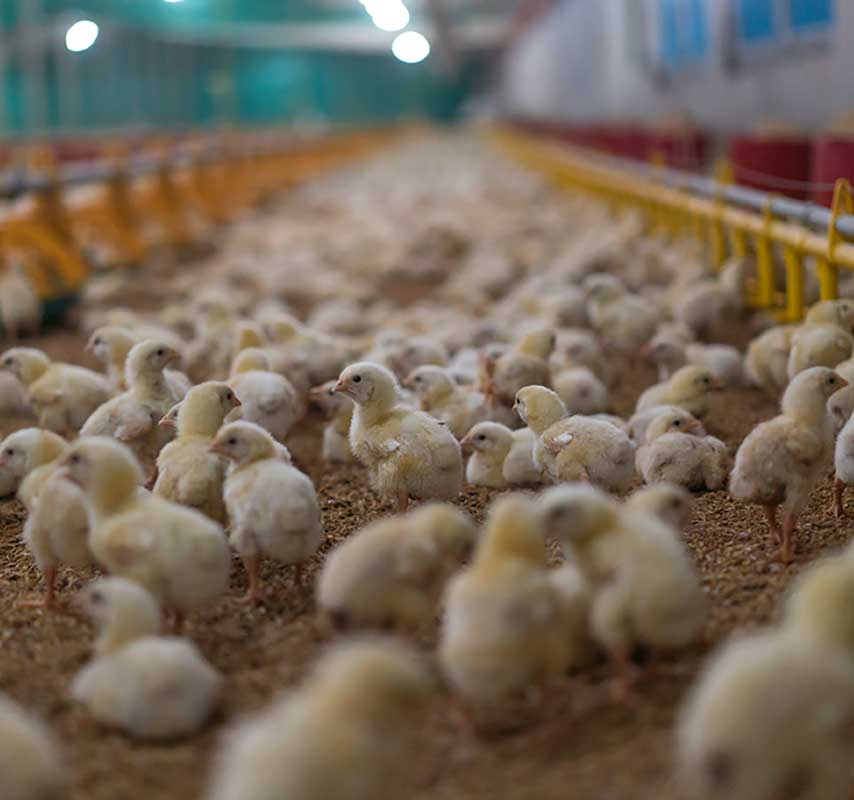 Biochar in Poultry Bedding Applications
USDA poultry production data indicates that there are over 200K poultry farms in the US alone1.  Most used poultry bedding materials in coops & barns are wood/pine shavings, saw dust, wood waste, peanut hulls, hemp fibers, sugarcane or bagasse waste, straw etc2.  Often, the bedding material also comprises of an adsorbent such as zeolite and diatomaceous earth (fullers earth). Sand is also occasionally used as bedding material in poultry.
A poultry bedding material should have the following properties:
Safe to use as bedding material. Non-toxic.
Ability to provide a soft bedding for the chickens – so enough bedding thickness.
Be able to adsorb ammonia, uric acid, moisture, excreted from the chickens
Odor control
Non allergic to chickens.
Soft, sponge like, and provide a cozy environment
Readily available, Low cost, Not dusty
Composted later & improved manure quality
While pine/wood shavings are the commonly used bedding material, straw, bagasse waste, sugarcane fillings do provide some of the above properties. However, they are often reported as allergic3,4 to some poultry and do not have good adsorbent properties required for ammonia control in poultries. Ammonia emissions in poultries is not only a big issue to the health of the birds5, as chickens have significant respiratory issues, but also a big regulatory issue as well6.
Pine based bedding material is often added with zeolites and diatomaceous earth (fullers earth) for ammonia adsorption, odor control and bug & insect defense. The use of zeolites in poultry bedding is well known9.  Zeolite addition in bedding material is known to reduce overall ammonia emissions from poultries.
However, zeolites are inorganic and do not add carbon to the manure and do not improve the manure quality of the bedding.  Typically, poultry bedding materials once removed is used as fertilizer for its nutrient value.
References:
ARE YOU INTERESTED IN VGRID'S POULTRY BIOCHAR BEDDING?
Use the below form to contact a VGRID representative to discuss available options, pricing and ordering details for biochar poultry bedding applications.