RETAINS WATER
High surface area biochar aides in soil water retention.

RETAINS NUTRIENTS
Reduces leaching of valuable
nutrients from your soil so your
plants have food to thrive.

INCREASE YIELD/GROWTH
Porous biochar helps promote beneficial soil microbes

HEALTHY ENVIRONMENT
A carbon negative product with a positive environmental impact
HOW PERSIST WORKS
Applying Persist™ Biochar to naturally enhance the structure and water-holding capacity of all types of planting soils, allows for more nutrients to be available to plants longer. This 100% natural biochar product improves soil by concentrating beneficial microbes and absorbs contaminants, creating a healthier rootzone environment for all types of plants to thrive.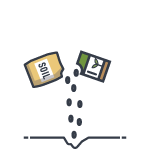 STEP 1
Thoroughly mix 1 part
Persist™ to 6 parts soil mix.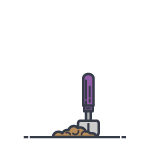 STEP 2
Place your plants in
Persist™ enriched soil.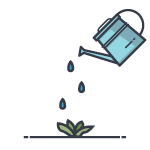 STEP 3
Water thoroughly
soaking soil.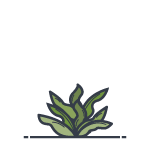 STEP 4
Enjoy thriving, beautiful
plants with less hassle.
PERSIST – SAFETY DATA SHEET (SDS)